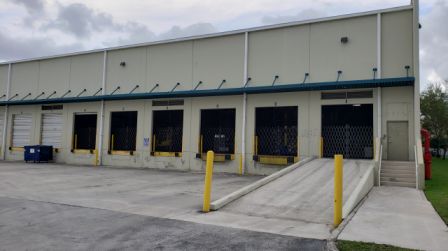 At Strong Man Safety Products, our first priority is keeping you, your employees and your jobsite safe from harm's way. But we also care deeply about giving you, our customers, the best quality service we can possibly give. That's why we've decided to launch a new distribution center located in Miami, Florida.
With this new distribution center, open from 8 a.m. to 5 p.m. with a brief close from 12 p.m. to 1, our goal is to improve our fulfillment time and delivery of customer orders. Since a large part of our customer base is in Florida, it made most sense to establish it there.
"Florida is a significant market for Strong Man and this new distribution center is supporting the growth of our company," said Jay Kinder, owner and CEO of Strong Man Safety Products. "This warehouse center and its location is great for local customers and is in a prime location near key ports."
With this new 20,114 sq. ft. facility, we now have eight docks, eight overhead doors and one ramp—all helpful when trying to increase fulfillment efficiency. In addition, this Miami distribution center is in the perfect position, close to many important locations—nine miles from the Miami International Airport, 15.6 miles from Miami port and 34 miles from Port Everglades port.
"This new distribution center will give Strong Man a great opportunity to improve our business through cost efficiency, delivery quality, accuracy and company expansion," said Kinder.
Since Florida is such a critical market for us, we plan to expand and have plans to have products on the ground by May 15. That way, we can keep focusing on providing top-quality service and fulfillment, and not to mention, keep you and your jobsite safe along the way. As a leading manufacturer of debris netting and weather enclosures for jobsite protection, we'd say that's pretty important to us. Safety First. Go Strong.