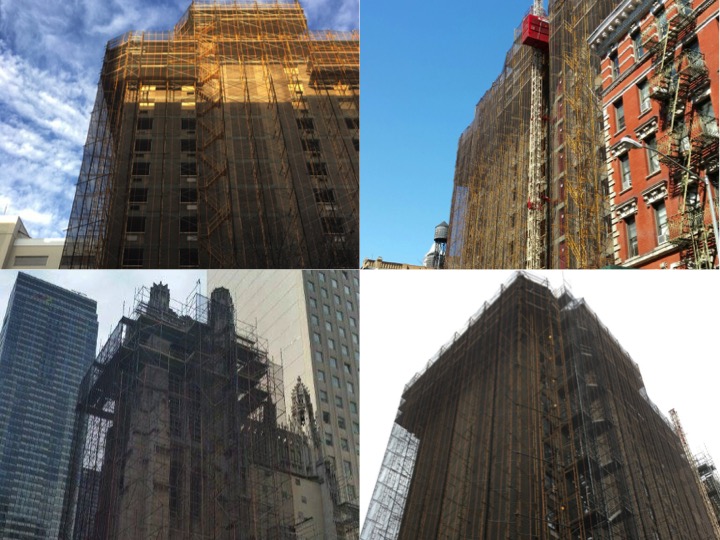 When Eagle Scaffolding needed a tough, reliable product to ensure the safety of both a demolition and restoration project, they chose Strong Man. To keep their staff and pedestrians out of harm's way, Eagle Scaffolding chose Strong Man's ever-popular SBN-22 safety debris netting for the jobs.
The SBN-22 is a versatile, cost-effective mesh netting made of high-density knitted polyethylene with a reinforced border. Meant to catch falling debris, this durable netting is UV treated, fire retardant, and easy to work with because of its lightweight and flexible nature. Luckily, its ¼" hole openings meet NYC Local Law #61 and OSHA requirements, as well as NFPA 701 Method II and Boston Fire Marshal Test BFD IX-1. If you're building, restoring, or tearing down, the SBN-22 has got you covered.
Eagle Scaffolding's use of the Strong Man SBN-22 8'6"x150' black FR debris netting will service two jobs in New York City. First, a demolition project for the Mount Sinai Beth Israel Hospital's East Village campus at 321 East 13th Street where the previous 14-story hospital residence building will be rebuilt into hospital rooms. Eagle Scaffolding will also provide a sidewalk shed, scaffolding and a hoist on scene.
Second, St. Thomas Episcopal Church in Manhattan hired Eagle Scaffolding as a subcontractor for a restoration job of the church's exterior and stained-glass windows. Eagle Scaffolding will install a sidewalk shed and scaffolding to help get the job done.
Tough jobs need even tougher products. Strong Man offers a reliable option to keep staff, pedestrians and surroundings safe from falling debris and is meant to withstand all weather conditions. Contact us for more information on SBN-22, or to learn more about how to keep your worksite as safe as possible. Safety First. Go Strong.