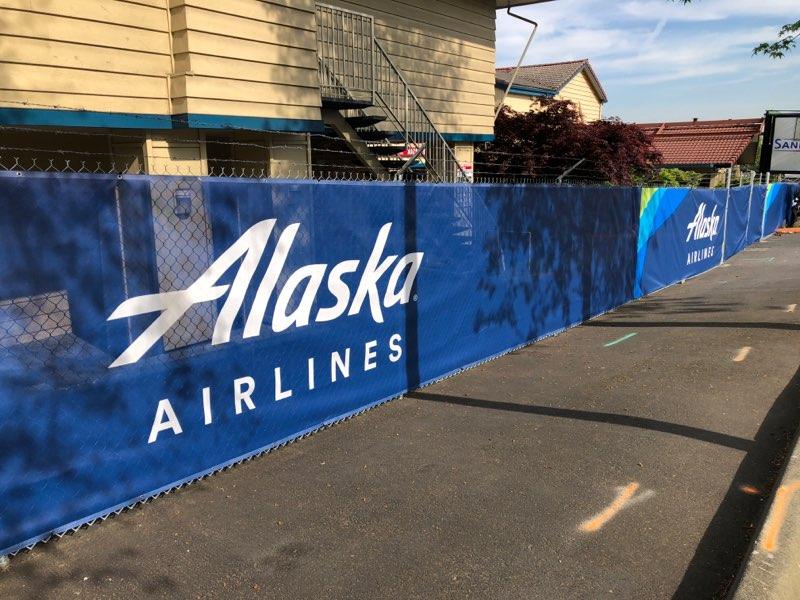 When you're already working hard on the job, the last thing you want to manage is getting your name, business or message across to the public. Strong Man has your solution that can do the work for you: Logo Branded Material on Customized Printed Mesh.
You can get your logo, name or message printed on our superior-strength, reinforced PVC vinyl fabric. But these customized mesh banners aren't just for masking jobsites. Use them to advertise sponsors at a rock concert, create visual barriers for fences, enhance debris netting on the job or help spice up company branding or marketing. Whatever it is, Strong Man is there to make sure it's done right.
Our Logo Branded Material has heat-sealed edges and grommets with optional webbing. We only use high-resolution logo and image printing to make sure your message stands out effortlessly. With various shade factors and colors, this UV-treated fabric will last you all year round. All requests are made-to-order, ensuring that your banner is totally unique, printing seamless widths up to 10'6" and over 200' in length. With Strong Man, we'll be flexible to fit your needs.
We also allow you to customize more than just banners, as we can also print on our fire retardant SBN-427 debris netting if that's what you need. Not only does this debris netting advertise your needs, but it is functional with flame retardant quality and meets NFPA 701 Test Method II. And if you have logo patches, no problem. They can be sewn into the netting, too.
Strong Man is here to help you spread your message and increase awareness. Our custom- printed mesh isn't only a premier solution, its backed by a brand the construction industry has grown to trust and rely upon: Strong Man. If you have any questions or simply want to learn more, please contact us and we'll help in any way we can. You work too hard not to get noticed. Let Strong Man help your message land with impact. Safety First. Go Strong.