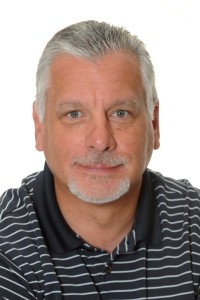 Scott Eckert arrived at Strong Man in September of 1998, bringing his prior sales experience and knowledge from both the trucking and scaffolding industries. With a broad scope of responsibilities that include servicing active customers and opening new distribution centers nationwide, a typical month may find Eckert spending as much as half of his time on the road. Not that he minds. As Eckert states, "I like what I do and I like my customers. That makes for an easy day."
Although he attended the University of Oklahoma to study architecture and briefly worked as a draftsman during his early twenties, Eckert's career has predominately been in sales. His route to Strong Man came when he was working as a sales representative for a regional trucking business and Jay Kinder, President of Strong Man Building Products, was a customer. The two became friendly and, as Strong Man operations grew, Jay invited Scott on board.
Scott attributes his longevity at Strong Man to company dynamics. "There are benefits to working for a small, family-run business versus being lost in a big corporation," he says. After so many years with Strong Man, Eckert has developed a deep understanding of both Strong Man products and industry challenges in general.
His customers know him to be friendly and reliable, and Eckert acknowledges one of his strengths is that people come to trust him quickly.
"I get a great deal of satisfaction helping people," says Eckert. "My customers will call me knowing I don't carry a particular product because they want to pick my brain or ask my opinion on where I think they should go to get it. It's gratifying to know people have that level of trust in you."
Raised in New Jersey, Eckert is married with four children. When not traveling the country for Strong Man, he can be found coaching his youngest son's football, baseball or basketball team.
WHAT PEOPLE WOULD BE SURPRISED TO LEARN ABOUT YOU: I was born in Saudi Arabia.
DREAM VACATION: Australia
SECRET FEAR: Failure. Or death. Hard call.
BIGGEST CLAIM TO FAME: My kids.
MOST PROUD OF: For a guy that was never the smartest or funniest, I've done well for myself and I'm proud of that.