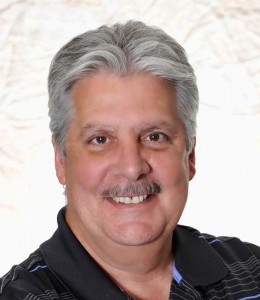 Larry Finn's first sales job came at age 23 when he was selling insurance door-to-door… in Hawaii.
After driving a van cross country from Long Island to San Diego with a friend, Finn took his aunt and uncle up on their offer to live with them in the Aloha state. He lived there for approximately one year before returning home to Long Island and entering what would become a 35+ year career in the construction industry.
Although Finn officially came on board with Strongman in January of 2000, his relationship with the company and owner Jay Kinder stretches much further back.
"I bought tarps from Jay when he was first starting out and I was managing a roofing, siding and building supply company on Long Island," says Finn, who then moved to Richmond, VA in 1989 to oversee the commercial construction division for Saunders Oil Company. He and Kinder bumped into each other at a trade show in Vegas in the early 90's and after that made it a point to meet once a year for dinner and networking.
When Saunders Oil was being sold, Kinder reached out to Finn and asked if he'd be interested in moving to New Jersey. "I told him he couldn't pay me enough money to move to New Jersey," recalls Finn, chuckling. "But when I went to talk to Jay, I realized he was doing something I'd be very interested in."
Finn now handles all outside sales for Strongman in the New York/New Jersey metropolitan area as well as eastern Pennsylvania, Washington DC, northern Virginia and Delaware areas. When asked what drives him in his day-to-day interactions with customers, Finn is quick to respond with one word: safety.
"What gives me satisfaction is knowing that because people are using the products I sell, everyone gets to go home at 5 p.m. in one piece. That's what I sell. I sell safety."
People who know Finn describe him as knowledgeable, hard working, thorough and technically strong. "I'm a working salesman," says Finn. "People see me on a regular basis. I'm not at home working off e-mail."
When not working, Finn can be found attending his son's baseball games or landscaping around the house. He's been married for 26 years and has two children, a daughter and son.
FAVORITE QUOTE: The will to win means nothing without the will to prepare.
FAVORITE FOOD: What I can't have: prime beef.
FAVORITE INDULGENCE: Fine wine
DREAM VACATION: Return to Hawaii
SOMETHING ABOUT YOU THAT WOULD SURPRISE OTHERS: I'm a cancer survivor.
MOST PROUD OF: Personally, I'm most proud of my wife and children. Professionally, I'm proud that I've been in this industry since 1975 and I've never mistreated anyone. Everyone who's dealt with me knows they've been treated fairly.