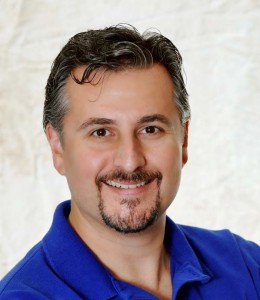 Inside sales representative and traffic manager Carlo Pepe has been with Strong Man for over 10 years. His reputation for being the office jokester (along with Strong Man salesman Scott Eckert) aside, Carlo takes his Strong Man duties seriously. His sees all customer orders through from time of receipt to delivery, expediting and troubleshooting along the way. Known not only for being an efficient and personable presence around the Strong Man office, Carlo has earned a reputation for being the "my-computer's-not-working-can-you-fix-it?" guy.
Before joining Strong Man, Carlo worked in various other industries including industrial tooling, pest control and fire suppression. Raised in New Jersey, he cites "good coworkers, good environment and good customers" as the reasons he enjoys working at Strong Man.
Married for over 10 years, he enjoys spending time with his family including children Conner and Kayleen.
WHAT PEOPLE WOULD BE SURPRISED TO LEARN ABOUT YOU: I play guitar in a rock band.
FAVORITE MUSICIAN: I'm a big Ozzy (Osborne) fan.
DREAM VACATION: Hawaii. I've been to Oahu, but I'd love to go back and see the other islands.
MOST PROUD OF: My family.
FAVORITE FOOD: I grill a mean set of ribs.
PERSON WHO INSPIRES YOU: My mother. My father passed early and she raised me as a single parent, always able to provide. She did a great job.