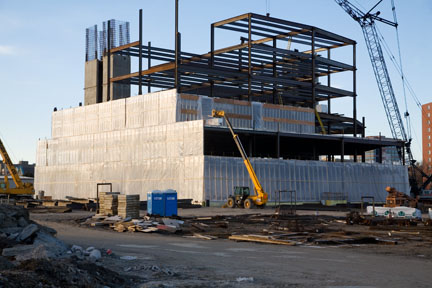 No job or construction project is exactly the same, yet all have one thing in common: Safety is crucial. That's why Strong Man Safety Products offers a wide array of poly sheeting solutions that keep the bad stuff out, and the good stuff in. Simply put, it's our job to make your job easier and more secure.
For those tough heavy-duty projects, our Strong Weave 77 Reinforced Poly and String Reinforced Poly are exactly what you need. Crafted from strips of polyethylene woven together and coated on both sides for added strength, they will have your back through the toughest winds and the worst weather. Both sheetings are completely customizable, and are available in either Fire-Retardant or Non-Fire-Retardant options. Tear-resistant and waterproof, it goes without saying that these heavy-duty poly sheetings means business. The Strong Weave 77 and String Reinforced Poly are lightweight enough to make installation as easy as possible, but strong enough to do their job– protecting you and your crew.
Strong Man is top-notch in addressing the safety needs of construction sites and their employees. Our 41 years of experience in the construction industry make us knowledgeable and informed to make the highest-quality products on the market, without sacrificing service. Order your Strong Weave 77 Reinforced Poly Sheeting and Strong Reinforced Poly by 2PM and have it shipped as early as today. Stay Safe. Go Strong.